These are a fabulous, and relativity in expensive appetizer for a party or a holiday dinner.
I made these "cocktail-sized" (using about 1 T. of the potato mixture per latke) and following that method this makes about 80-something latkes
You can always make them more traditional-sized and that would probably produce 1/3 as many.
I've made these a few times before and this is my recipe...it is a bit time consuming (when you are making a whole bunch of them!) but totally worth it. These are served with homemade apple sauce & sour cream~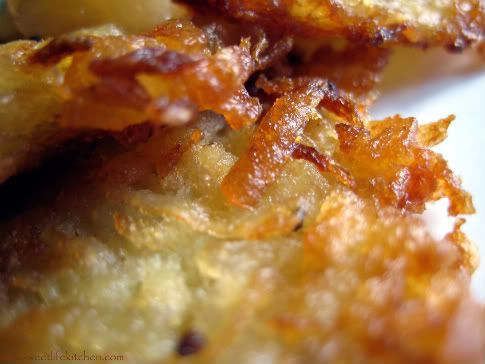 8 medium-large Idaho baking potatoes
1 cup matzo meal
7 eggs
Salt
Onion powder
1 1/4 shredded sweet white onion
Wash & peel the potatoes, then grate (I get out a giant bowl and fill it with ice water, the potatoes sit in that while waiting to be grated)...I used the larger grater blade on my food processor. Immediately after shredding soak the potatoes in cold/ ice cold water, rinsing with clean cold water until the water is clear and shredded potatoes are clean and white.
Press as much of the water out as possible using your hand and some paper towel. Lay a piece of wax paper over a cookie sheet and place several layers of paper towel on that.
Dump the potatoes out onto the cookie sheet and press a few layers of paper towels on top, a few times to remove as much of the water as possible. You can also strain them quickly with a cheese cloth to get additional moisture out.
Shred the onion, squeeze the liquid out as much as possible.
In a small bowl whisk the eggs
In a LARGE bowl combine the shredded potato, the onion, the eggs, the matzo meal, onion powder and salt, mix well.
Heat just enough oil to keep the bottom of the pan covered on medium low heat for about 5 minutes. Drop the potato mixture into the heated oil (I did about a tablespoon at a time), then press to flaten a bit. Fry about 4-5 minutes on each side (until golden) and set on paper towel to cool. Serve warm or room temprature with some applesauce and sour cream.
These can be made up to two weeks ahead and frozen. I buy some good sturdy disposable plastic storage (the "oven ware" is a great size), line it with wax paper and then add a layer of cooled latkes, topped with a layer of wax paper...and so on, like lasagna I cover the top with press-n-seal to keep it really well locked in.
To re-heat...
Pre-heat oven to 350
Cover a baking sheet with foil, spread latkes over the foil, cook for about 7 minutes or until hot!