This is a great recipe because, like so many in this Dorie Greenspan's; Baking from My Home to Yours, it is one that can be broken up in sections over days, even months if you go the freezer route! We try to DO as much as possible every weekend- really SQUEEZE every bit of fun, productivity, relaxing etc. as we can into those precious two days. Sometimes that curbs having 3-5 hours to bust out some fab baked goodness on a weekly basis. I highly recommend this as a SUPER simple cookie dough that is quick to throw together, and can be frozen for up to 2 months, so you can slice & bake anytime!! Love that. Seriously. Also an easy recipe to 1/2 for a smaller crowd, or bake half/freeze half (which is what I did).
This week's
TUESDAYS WITH DORIE
is the chocolatastic WORLD PEACE COOKIE, chosen by Jessica of
COOKBOOK HABIT
. Cruise on over to her blog to see these yummy peaceful cookies!!
THANKS JESSICA!!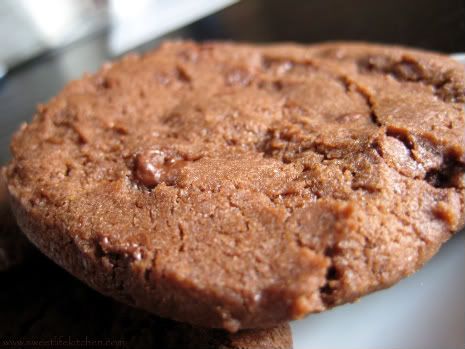 We loved these cookies, they were awesome flavor and texture wise and would be fun to try some different add-ins with next time~
I will be out of town and miss next week so see ya for some SERIOUS cake the week after next!
Peace out~