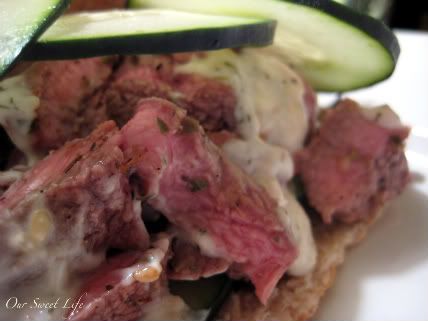 This summer we drove up to Lake Tahoe for a weekend away and to celebrate a good friends birthday. While we were there we spent nearly 3 hours floating in tubes down the Truckee River and drinking beer in the sun. It was glorious. One of those days that you think couldn't possibly get any better. Then, we got to dinner. A fabulous local had recommended we hit up
THE RIVER GRILL
, and we were SO glad we listened!! Not only was it a beautiful night out on the patio with the river we'd just floated down moving slowly by, the food was exceptional. I ordered the lamb, which was one of their specials that night and it was the best lamb I'd ever had. A week after we got home I was still craving it, and decided I was going to make something lamb-tastic, even though I'd never cooked lamb before.
Nate picked out these chops and I improvised a marinade and crossed my fingers. We were both happy with how this turned out and look forward to making it again and marinating it longer (we only had time to do about an hour).
Nate also wants to do homemade pita bread the next time we make this- so stay tuned!
Grilled Lamb Chops
1 package of lamb chops
Juice of 1/2 a lemon
1 tsp/cloves chopped garlic
2-3 T olive oil
kosher salt
pepper
1 1/2 tsp oregano
1/2 tsp cumin
1/2 tsp thyme
Mix the garlic, olive oil, salt, pepper, oregano, cumin and thyme in a medium bowl.
Place the lamb on a large plate (or baking pyrex)and massage the spice mixture all over it. Cover and let marinate in the refrigerator at least one hour and up to 8 hours.
Over medium heat, grill the marinated lamb chops 3 minutes then flip it, grill another 3 minutes and remove from heat. (for medium rare)
Let sit 3-5 minutes before slicing up.
Garlic Yogurt Sauce
1/2 of a large container of fat-free plain yogurt
2 tsp chopped garlic
1 T olive oil
3 tsp raw sesame seeds
Kosher salt (about 1 tsp)
1 Tbsp Dill
In a small skillet over medium low heat cook the oil and seeds, stirring pretty constantly for about 5-6 minutes (until golden brown but not burnt) add the garlic and satuee 2 more minutes. Place the yogurt in a medium saucepan over medium low heat and add the salt and dill, stir in the garlic, seeds and oil, whisking/ stirring until smooth and well combined. Remove from heat and let cool serve room temp or refrigerated.