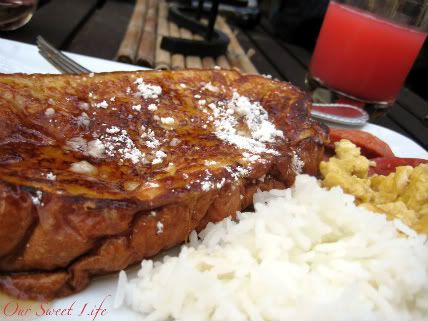 What a weekend!! So this past Saturday was the Los Angeles Underwear Affair, and we took a big walk with our weenie(dog)s in our undies! Nate was big hit in his "Statue of David" spandex shorts and the doggies got lots of love! This was an awesome event that we would love to participate in again next year!
Now, time for breakfast! I wish this was our post-5K breakfast on Sunday, but no such luck...this was our post-4th of July breakfast (you knew I was behind in my blogging!) that was not only incredibly delicious but just the trick after a night of way too much fun :O)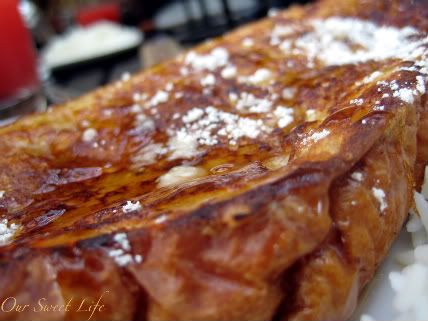 Thanks to LIA for not only making this AWESOME breakfast for us, but for sharing the recipe with me to blog about!
Hawaiian Bread French Toast, satueed Portuguese sausage, white sticky rice & soy sauce scrambled eggs...
With guava juice, of course!!
This is TRUE home cookin' so there are not exact measurements- just play around with the recipe and due to the fabulous ingredients, I think you'll be just fine...
Get a large loaf of King's Hawaiian Bread and slice it into "toast" slices.
Crack eggs into a bowl and whisk together with a little milk, a pinch or two of cinnamon, a dash of nutmeg and about 1/2 tsp of vanilla extract.
Dredge the bread in the egg mix and place on a large heated non-stick (or sprayed with non-stick) frying pan or griddle and cook on medium high heat until toasty (about 3-5 minutes) flipping at least once, twice if necessary...
If you're feeding a crowd like Lia was, keep the toast warm while you make the eggs by putting it on a foil lined cookie sheet in the oven.
For the eggs, whisk the eggs in a bowl, pour into heated non-stick pan and stir in a genourous (probably around a tablespoon for 6 eggs) pour of SOY SAUCE, scramble until they are "done" to your liking~
Lia served the toast and eggs along side some good ole white sticky rice ala rice cooker and some sliced and sauteed Portuguese sausage (or I think you can have it with SPAM which I'll have to try next time for SURE!), with a glass of guava juice!!