As always, I headed over to Shutterfly.com right around Thanksgiving and started to gather photos from 2010 to make our annual holiday card. I have so much fun creating this card every year, because I spent a whole weekend reviewing the year in photos...this card captures two of my favorite vacations- the bottom right with Leela and Arthur is from our New Years Eve stay in Mammoth, the top left corner with Arthur enjoying his road-trip-freedom, and the bottom left pic of Nate & me in San Francisco are both from our annual LA to SF PCH road-trip. In 2009 we didn't take the doggies on that trip because there was a wedding at one end of it, but this year they came, they camped, we loved it.
The top right corner photo of Leela basking in the sand was taken at one of our (and her) favorite places to spend the summer- Dog Beach in Huntington Beach, CA. My cousin Nick was visiting from Ohio, so we all met up at dog beach for a day of surf and sun.
Anyway- today, I finally finished stamping & sealing them all up, and wanted to share this card with all the Sweet Life readers too!!
So....HAPPY HOLIDAYS from BETH, NATE, LEELA & ARTHUR and may your 2011 be Merry and Bright!!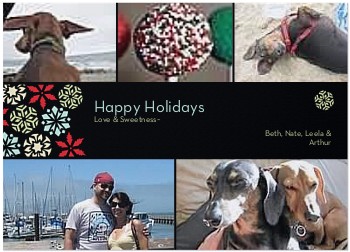 Vintage Snowflakes Holiday